FULL SERVICE CONVENIENCE STORE
History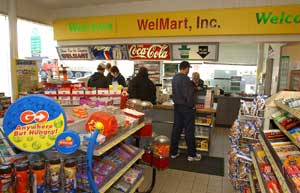 In 1999, the management of Weleski Transfer purchased a piece of property at the intersection of Route 28 North, and PA State Route 908. This is also the site of Exit #16 of Route 28.
Conveniently located, easy to access, WelMart offers the casual traveler, the daily commuter, or the professional trucker everything you could want or need at a clean, bright, friendly location. We offer 2,800 square feet of stocked shelves, coolers and freezers in a customer friendly service environment staffed by friendly and professional sales people 24 hours a day.
We are not a chain of stores but a single, family-owned store that has the feel of a neighborhood grocery store with all the modern accessories and technology that can lend a bit more convenience to your busy life.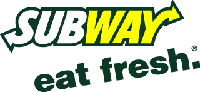 If you are hungry, we offer the following: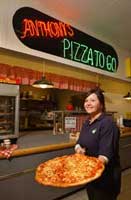 Subway - Sandwiches made fresh daily by our
world-renowned sandwich artists. Healthy and
calorie-conscious patrons can find a variety of tasty
options that satisfy the hungry, health-conscious person.
We also offer delicious, freshly made breakfast sandwiches
for the traveler looking to eat an appetizing and healthy breakfast
Anthony's Pizza - The WelMart owned and operated pizza parlor that offers pizza by the slice or by the pie. The freshest and tastiest pizza in the area baked right before your eyes.

Krispy Kreme Donuts - Need something sweet--don't need to say much about these, other than they are baked fresh daily and delivered to us piping hot and placed on our display case ready for consumption.
Also you may choose from many varieties of healthy alternatives such as Nature Valley Granola bars and fresh fruit and yogurt
Gasoline or Fuel

We offer the BP brand of fuel. Our pumps are clean and easy to use. You may elect the pay at the pump option to further add to your convenience. Our diesel fuel is treated with the OTR diesel additive designed to increase the performance of your diesel engines. Also, for the truckers, we offer ComCheck services as well as TCH. While not being able to enjoy all the benefits of a huge conglomerate, WelMart is still able to offer very competitive prices for gasoline and diesel fuel.
Other Amenities
ATM Machine
Pennsylvania Lottery Outlet
Award winning coffee and cappuccino
Fresh Turner Dairy Products
Daily newspapers
Full selection of grocery items and health aids
Nascar souvenirs
Fountain and cooler drinks



Contact Information
WelMart
200 Alter Road
Natrona Heights, PA 15065
724-294-2800
Jerry Gugino-Store General Manager